It can often feel like both a blessing and a curse. Our straight-haired friends will say they're jealous of our curls and random strangers will say we don't brush it properly, but the cold "hair" truth of the matter is that often we have no control of what our curls will do during the day. We do know, however, that when we first get out of the shower, our curls look soft and defined. Once it tries – that's a whole another story. Thanks to online beauty blogs and forums, new trends and techniques for managing curly hair have come to fruition. One of those trends, hair plopping, has proven that it's here to stay and works well for keeping curls smooth, shaped, and gorgeous. 
What is hair plopping?
Using a t-shirt instead of a towel, plopping is a hairstyling/drying technique for curly hair that keeps the moisture within your hair while it's drying, that keeps that amazing wet-like spiral and definition even once your hair has dried completely. 
Hair plopping is also a very easy technique to learn.
How to easily plop your hair:
There are only a few easy steps involved when plopping your hair. After a few tries, you'll be able to quicken the process and make it a simple and swift part of your shower routine. 
Step One: Start with wet, freshly cleaned hair. Do not dry with a tool prior to plopping as this defeats the purpose.
Try our sulfate free shampoo bar for curly/dry hair with passion fruit. coconut oil & natural fruity scent.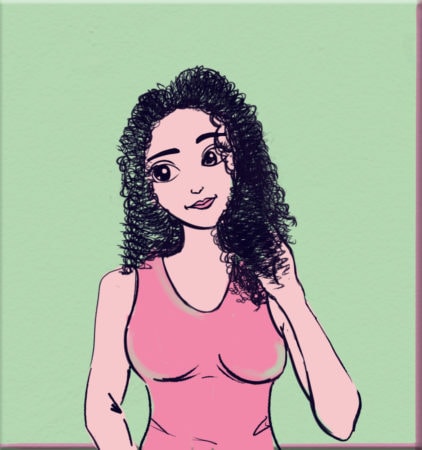 How wet should your hair be when you plop?
Not too wet, just slightly wet. Remember that hair will drink oils so you don't want to saturate them with water beforehand.
Step Two: Lay a t-shirt or microfiber towel on the counter or a flat surface that you can bend down towards. Make sure the opening of the shirt where your head would be is towards you with both sleeves facing outwards.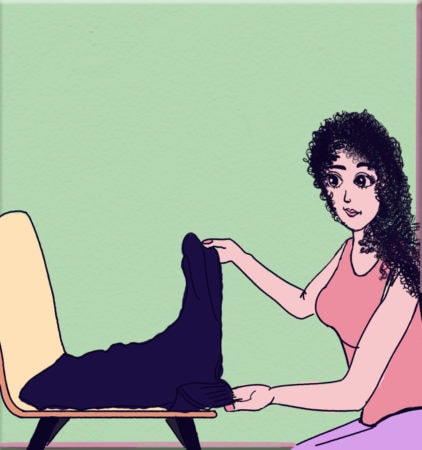 Step Three: Run your moisturizer and other styling creams through your locks.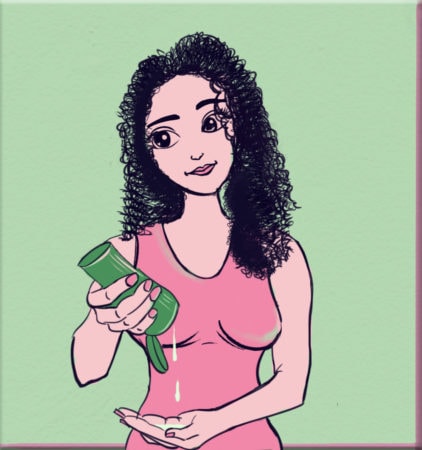 Step Four: Pile your hair on top of your head and then "plop" it into the center of the t-shirt.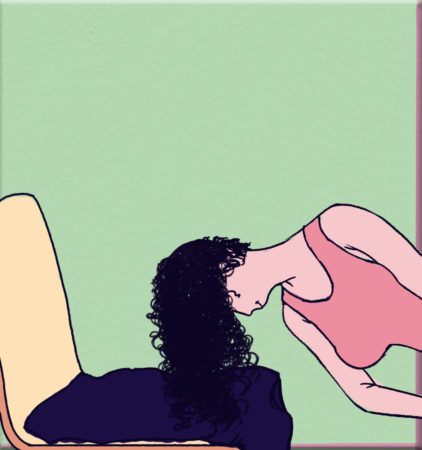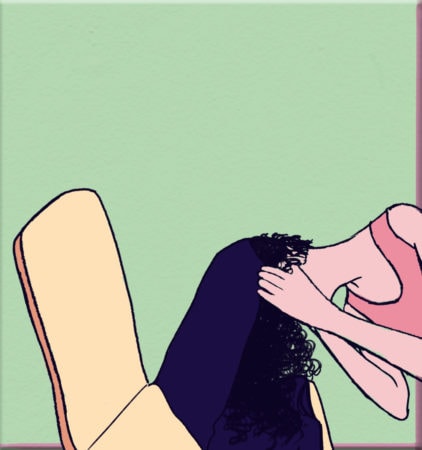 Step Five: Tie the shirt sleeves in a snug knot at the back of your head at the base of your skull. Not too tight, but tight enough that the shirt won't come apart as you wait out your plopping. Tuck in any loose ends of the shirt.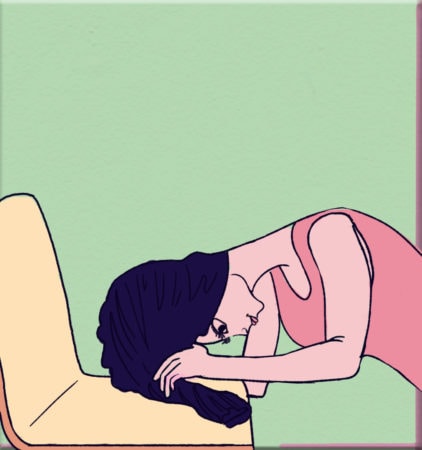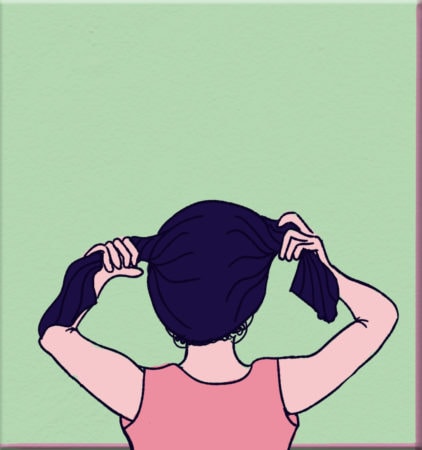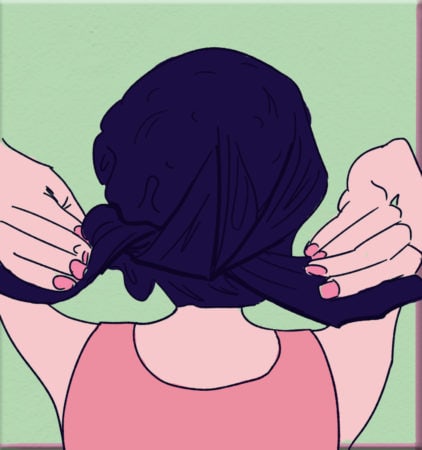 Step Six: Plop your hair while you go about the rest of your beauty routine. Wait between 20 – 40 minutes and then remove the t-shirt and diffuse or air dry your hair.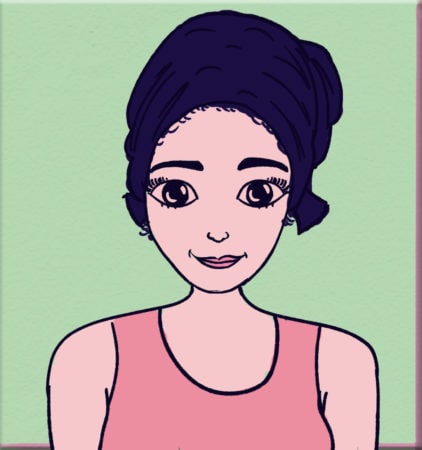 How long should you plop your hair before diffusing?
We recommend 20 to 40 minutes but actually there is no maximal length of time for most of the active ingredients.
Hair Plopping mistakes:
Many of us often dry our hair right out of the shower with the same towel we dry our bodies with. What's not great about this is that these towels absorb way too much of the moisture out of your hair. It still feels damp, but curly hair actually needs a lot of that moisture back.
Definitely don't use a terry cloth towel for hair plopping. Towels used should be microfiber only. This will only dry out your hair even further than if you were to just scrunch it through your hair after a shower.

Plopping can only do so much. Curly hair needs to have its own shampoo routine. Straight-haired people may get away with using harsh ingredients and sulphates on their hair, but curly hair wants only naturally derived ingredients in the shampoo and conditioner you use. It's also important not to wash your hair with shampoo too often. Using a daily conditioner is okay for many curly-haired people.

Don't forget to scrunch up your curls as best as you can before laying them in the middle of the towel. This will promote the best definition.

Don't ball your hair up and then plop it. If your curls are too tight at the top of your head, they won't dry effectively and may take much longer for the shirt to absorb the excess moisture it needs to. 
Discover our shampoo bar that is perfect for curly hair here.
What we love about hair plopping:
If you have thin or fine hair, plopping it at the top of your head while it tries will add extra volume to your curls, increase the likelihood that your curls will stay defined and keep them from turning wavy during the day.

One common issue with maintaining curls is that we need sometimes LOTS of products to keep them tame, but even a little bit too much will make them go hard and crunchy. Plopping also absorbs any excess curling creams or oils you may have used.
Try hair plopping the next time you dry your hair and notice the difference it makes in the definition of your curls as well as the amount of frizz prevention. Knowing how easy it is to adjust your beauty routine to include hair plopping, it won't be long before you swear never to dry your hair with a bath towel again. 
Hair plopping benefits
Adds shine
Increases volume
Structures curly hair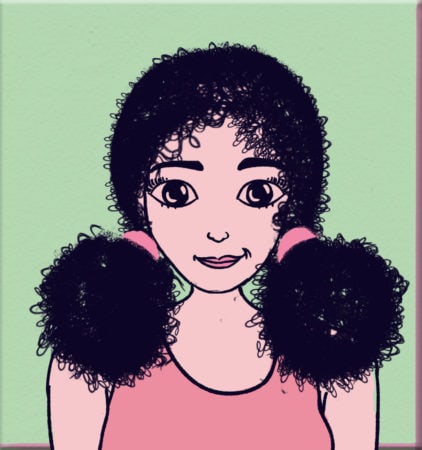 If you are interested in an ecological, zero waste shampoo, try FRIZZY Passion, our shampoo bar for curly hair with Argan Oil and Sapote Fruit. It will beautify your curls !