How To Quickly Repair Damaged Hair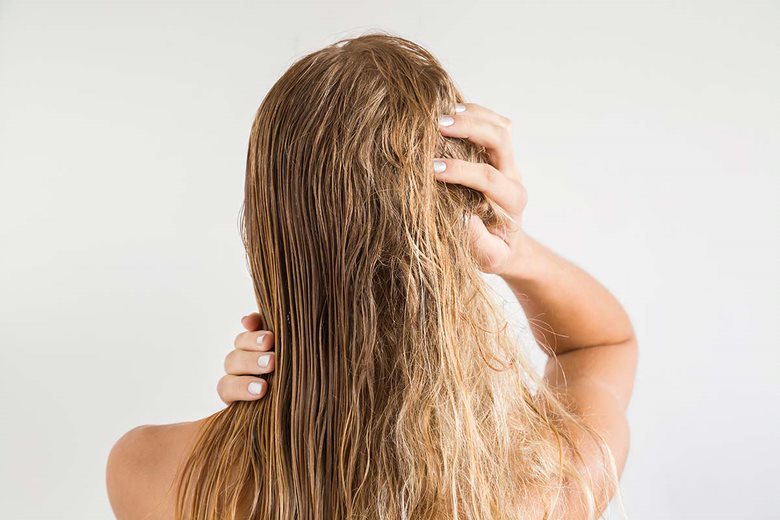 Are you tired of your damaged frizzy hair?
Damaged hair is easily recognizable. It is dry, dull, brittle to the touch, and has split ends and breakage. Fortunately, there are solutions to care for and repair it. In our article, we detail the tips and care products to use to regain a healthy and bright hair.
Now say good bye to damage dull, dry & frizzy hair 👋
12 Amazing Tips To Quickly Repair Damaged Hair
Follow these amazing tips to get shiny, healthy strong hair back quickly!
When your hair is split, it starts to fray from the bottom up, becoming dull and frizzy. It's not at all pleasant to look at, let alone touch. The first step to take when your hair starts to get damaged is to cut the split ends immediately. Even if you've waited years to get that length.
Don't hesitate to cut them regularly, because the more you cut them, the faster they will grow. Note that it is recommended to cut your hair every eight weeks. Trimming prevents split ends from running up your hair and breaking the length even more. You don't have to take off several inches. Your hairdresser will simply try to "dust" the ends to keep your hair strong, healthy and split-free.
Always make it a habit to do an oil bath before washing your hair. Do it 30 minutes before washing your hair so that the natural substances can penetrate the roots. Choose natural products, as they intensely nourish the hair. For example, you can use coconut oil. It makes hair soft and manageable. You can also opt for argan oil which contains vitamin E and fatty acids. Otherwise, olive oil is also excellent. It has a protective effect on hair that tends to break. The oil bath is also recommended after swimming in the pool. The oil restores softness to the strands. Apply it from the middle of the hair shaft to the ends.
3. Choosing and using shampoo properly
Your shampoo may be the cause of your hair's damage. So to repair it, choose the right one. It should contain organic and natural ingredients and be sulfate-free. Shampoos with natural ingredients help repair your damaged hair deep down until your hair is healthy and shiny again.
Apply only a small amount of shampoo, enough to create a lather, so you don't have to rinse your hair for too long. Spending too much time rinsing can cause your hair to fall out. Plus, rubbing too slowly can break your hair. Work the shampoo into your scalp. Then, gently massage for about 5 minutes before rinsing.
Important:
The use of anti-dandruff shampoo is not highly recommended. But if you insist, experts recommend rewashing your hair with a regular conditioner and shampoo after rinsing out the dandruff shampoo.
4. Use restorative hair masks
When hair is well moisturized and nourished, it stays healthy. The secret lies in the use of hair masks. They are often made with moisturizing and repairing ingredients, such as oils, vitamins and naturally occurring elements. These masks help repair damaged strands over time. In addition, they give your scalp more shine and suppleness.
Note that masks are much more convenient than conditioners. When you apply them to wet hair, they stay put. This gives the ingredients time to penetrate deeper into the hair's surface and fill in gaps and nicks. Most importantly, you should choose masks that are appropriate for your hair type. For example, if you have color-treated hair, use masks that are only for that purpose. The same is true if you have curly hair, dry hair, etc.
5. Choose leave-in products
In terms of hair treatments or masks, always favor leave-in products. They have a more protective effect on your hair. This kind of product quickly repairs dry and frizzy hair. It will add moisture and make your hair smoother and more manageable. Plus, it minimizes damage.
Whether your hair is straight, curly or somewhere in between, leave-in products smooth, soften and detangle strands. But they also protect the scalp from UV rays. Just like the skin, hair can be damaged by UV rays. These products are ideal if you spend a lot of time in the sun.
For best results, it's best to apply the treatments or leave-in masks to your hair when it's damp and not soggy. Then, try combing it through with a wide-tooth comb so that the ingredients can be distributed evenly. Also, if you have color-treated hair, leave-in products help keep the color from fading.
6. Avoid brushing wet hair
It's important for the health of your hair to handle it with care when it's wet. That's because your hair is most vulnerable when it's wet. Never brush your wet hair unless you have a brush that is specially designed to detangle wet, fragile hair. When in doubt, opt for a wide-tooth comb. With the leave-in product, the brush or comb will glide through easily, without breaking or snagging the strands. Then, when you get out of your shower, don't try to scrub your hair vigorously. Instead, blot it with a microfiber towel, or a fluffy towel, or even better, a soft t-shirt. This way, you'll spare your vulnerable hair from the friction that can stress it. Be careful not to tie your hair up with elastics if it is still wet, as this encourages breakage.
7. Avoid washing your hair every day
Know that sebum, a substance that your hair gives off when it is dirty, is perfect for good hair quality. A sebum treatment is even recommended if you want to grow your hair back quickly and if you want to take care of your hair. The substance flows down the hair shaft and nourishes the entire length. This is why you should not wash your hair very regularly. It is best to shampoo your hair once a week. Washing your hair every other day is not prohibited. However, you should avoid washing your hair every day. By washing your hair with shampoo and water very frequently, your hair can become dry, itchy and flaky. All this goes against what you want: a shiny, clean and light scalp. Therefore, opt for shower treatments. Limit swimming and sunbathing.
8. Limit swimming and sunbathing
Regular bathing is great for your body, but not for your hair. If possible, limit the amount of time your hair spends in the sea and pool. Salt water, chlorine and other chemicals in the pool can weaken and break your hair, not to mention the effect it can have on color.
Be aware that chlorine sucks the natural oils out of your hair, leaving it rough, dry, and damaged. If you're a swimmer or do any activity that requires you to spend a lot of time with your hair in the water, use protective products and always wear a swim cap. Don't forget hair masks afterwards. They immediately revitalize your hair with gentle, moisturizing formulas. Always moisturize your hair
Like some plants, hair also needs moisture to grow and be healthy. The first cause of hair breakage is dry hair. Dry hair does not receive the maximum amount of moisture and begins to become brittle and break.
If your scalp is healthy, the hair that comes out of it will be healthy too. So scalp care is important. A moisturizing regimen includes shampoo, conditioner, and a leave-in hair mask. This is the easiest way to keep your hair from drying out. Plus, dirt, everyday debris and products can build up on your scalp and cause inflammation and irritation.
9. Never over-tighten the style
You're probably wondering why your hair is still damaged when you're already using the right products. Note that this may be due to your hairstyle. In fact, over-tightening your bun or ponytail can actually cause split ends and breakage. So, to protect, repair and prevent pressure on your hair, start loosening your hairstyle. And when it comes to elastics, buy ones that suit your hair type. If it's thin, go for silicone elastics. Hooked elastics are best for thick hair. They provide a firm hold. Fabric scrunchies are suitable for all hair types.
In any case, prefer models without metal parts at the risk of promoting splits and breaks. The best hair elastic recommended by experts is the invisibobble, which looks like a spring.
10. Limit the use of heaters
The use of straightening irons, curling irons and hair dryers is one of the causes of hair damage. So it's important to limit these heating devices, or even stop using them. But if you are forced to use them, at least know how to adjust the temperature. You can find different temperature settings on all heaters. Most have three. So consider these temperatures based on your hair type. The first level is
for fine hair
, the second for medium hair and the last is for thick hair.
Don't forget to use a heat protector. It can help you avoid further damage when using these heaters. Also, if you have colored hair, it is not recommended to use this kind of device.
11. Rely on specialists for hair coloring
If you want to color your hair, it is recommended that you always seek professional help. Be aware that some coloring products have the potential to damage hair if you color your hair yourself: too much developer, color stays on too long, heated films, etc. All of this can lead to uneven color as well as hair damage and breakage.
A specialist will know what to do with your hair. However, it is advisable to opt for semi-permanent colors. They contain less ammonia and peroxide, which can contribute to damage over time if the color continually overlaps. There are also color styles that will minimize damage.
12. Repairing hair with a professional
Sometimes it can be difficult to repair extremely damaged hair yourself. The best alternative, if you want to keep your hair healthy for a long time, is to seek the services of a specialist. He or she has been trained to treat the hair..
In professional salons, hair treatments are perfectly made of active ingredients. They are suitable for treating all types of hair damage: whether your hair needs a good dose of moisture or you have overly fragile and over-processed strands. When you wash your hair, your hairdresser will certainly opt for a repairing treatment. And, because all the formulas used are so concentrated, you'll see and feel a change immediately.